North Carolina based player development program, Operation 36 Golf has partnered with the Epsilon Alpha Boulé of Sigma Pi Phi Fraternity in Fayetteville, NC to deliver a 6 week program to approximately 100 youths. This is the largest golf program to date for the Sigma Pi Phi Fraternity nationwide and surpasses programs in Dallas, Miami and Los Angeles to name a few. It involves the coordinated partnership with the Fayetteville Police Department, Project 26 mentoring program, Fayetteville State University, Two-Six Project, PGA Junior League, PGA Reach and Operation 36 Golf.
The program is specifically designed to introduce youth players of color to playing the game of golf using the Operation 36 development model and app to motivate and measure the progress of each participant. The objective is to get a golf club in as many minority youth's in the area as possible and introduce them to playing the game of golf.
"When researching programs to partner with, I immediately was interested in Operation 36 because it was focused on getting players on the course, giving them a goal to reach for, measuring their progress and providing a curriculum that could guide our instruction. Everything that I was looking for! As the leader of this program, through the Operation 36 mobile app, I can see all of the players in our program, encourage them based on their specific progress and communicate in between our sessions. It's a huge win for us to partner with such a great program and technology that assists us in meeting our objective." said Sigma Pi Phi Fraternity committee chair Dr. Edward Dickerson.
The 6 week training program is led by Operation 36 coaches Kevin Martin, PGA and Paul Brown who currently run a full service Operation 36 Academy juniors and Adults at King's Grant Golf and CC. Assisting in the delivery of the program are JrPGA, Two-Six Project mentors, Fayetteville State University golf team members and the Fayetteville Police Department.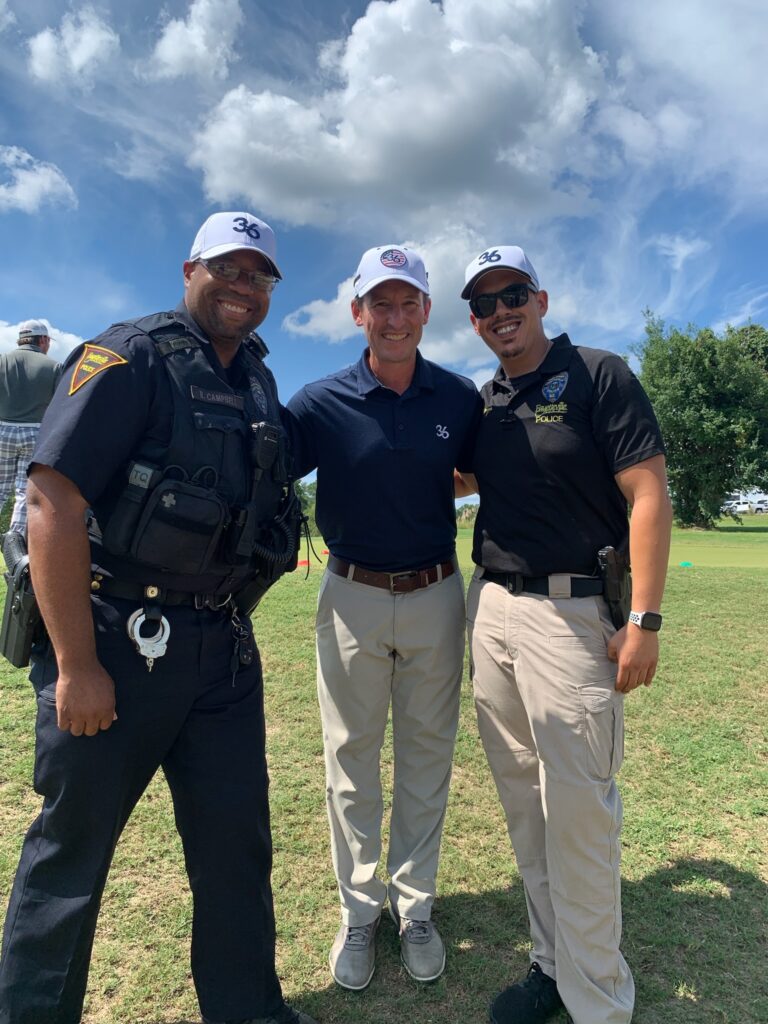 "Attending the first day was an incredible experience. To see the coordinated efforts of so many organizations and the excitement amongst the youth was something truly amazing. I enjoyed talking with the Police chief and her officers about their excitement in helping. I never thought I would see the day when Police officers would be wearing Operation 36 hats and assisting getting new players into the game of golf. And the best is yet to come. Next week the players get to experience the magic of playing the game of golf on the golf course using the Operation 36 development model and app. Everyone will play 9-holes from 25 yards away with the goal of shooting 36 or better. Most of the participants will make their first par and birdie and walk away encouraged that they can play the game and experience success right away. Once they get some confidence in themselves that they can do this sport, that's when the fun really starts and they can start dreaming. They can then set goals of joining a local PGA Junior League team, making their Middle School/High School team, pursuing golf in college and ultimately playing golf for life," said Operation 36 co-founder Ryan Dailey, PGA.
Plans are in the works to run a Fall and Spring program to expose as many youth players as possible to playing the game of golf. If a player shows a strong interest and wants to pursue golf even more, the Operation 36 Academy at King's Grant Golf and CC provides year round coaching and playing programs to help players develop their skills. The coaching staff can start right where the player left off in the Sigma Pi Phi program as their progress and data in the app can easily be transferred over.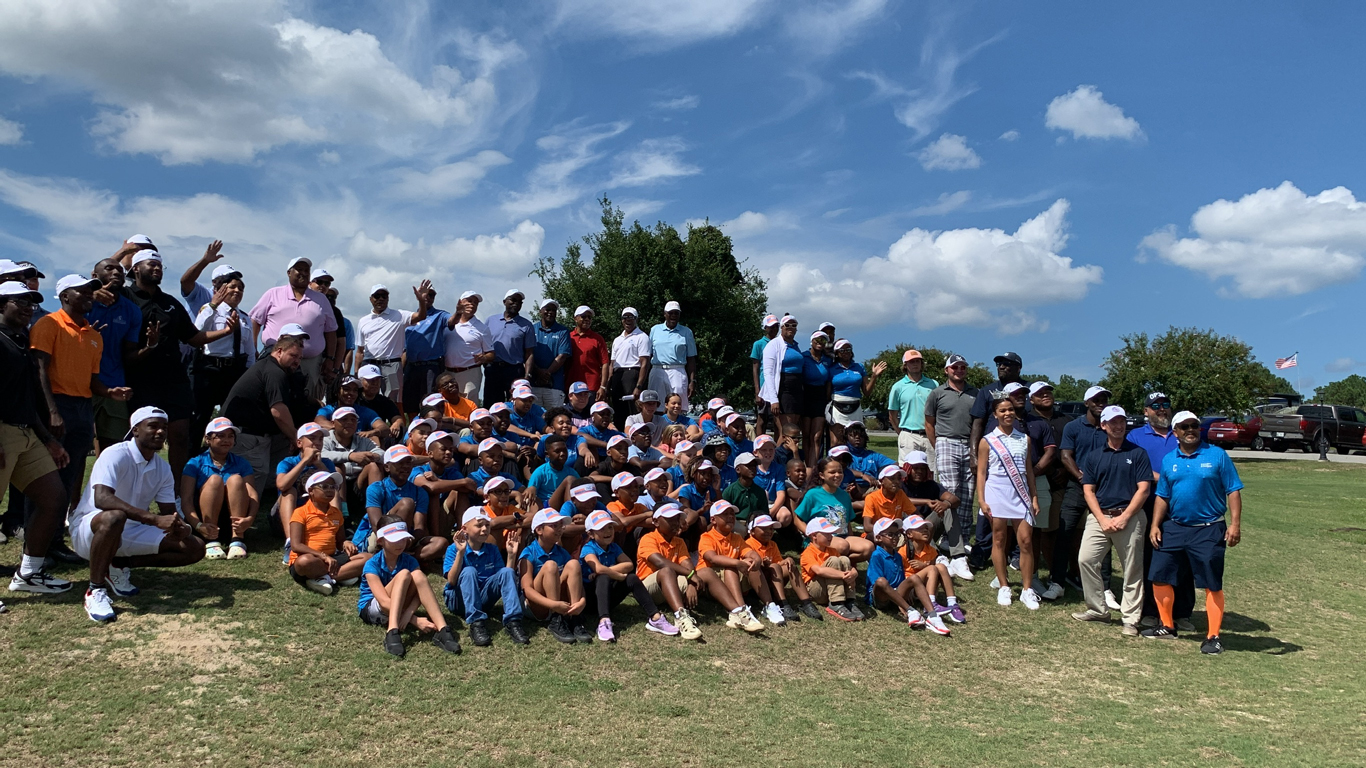 Funding for the program is provided through PGA REACH, the 501 (c)(3) foundation of the PGA of America along with private donations from community members.
"This is a really cool program that they have created and an easy plan to follow if I was a parent supporting my child. It aligns perfectly with the PGA of America's If a player beats 36 from Division 1 - 25 yards and say, Division 2 - 50 yards in this initial 6-week program put on by Sigma Pi Phi, they can join the Operation 36 Academy at King's Grant and pick up right where they left off and be working on beating 36 from Division 3 - 100 yards with Coach Kevin and Paul. Scholarships are available through Sigma Pi Phi for those in need and this creates a wonderful opportunity for the youth in the area to fall in love with playing the game of golf for a lifetime. This program aligns perfectly with our company mission of creating 1 million new golfers and we hope to continue to strengthen this partnership with Dr. Dickerson and Sigma Pi Phi Fraternity for many years to come," says Dailey.
About Sigma Pi Phi
The Sigma Pi Phi Fraternity is best known as the Boulé, a Greek term meaning "council of noblemen."
Founded in 1904, Sigma Pi Phi is the oldest Greek-letter organization comprised primarily of African American men. The Boulé has more than 5,000 members and 119 chapters throughout the United States and the Caribbean. Its membership consists of some of the most accomplished, affluent and influential men—leaders who are making lasting contributions to their communities, our society and the world.
About Operation 36 Golf
Operation 36 offers the industry's most effective long-term programs and technology designed to introduce and coach golfers new to the game. Founded in 2010 by PGA Professionals Ryan Dailey and Matt Reagan, Operation 36 is used today by more than 650 golf facilities and 1,500 coaches to attract new participants, grow coaching revenues and turn beginners into lifetime players. To learn more about Operation 36 Golf, please visit operation36.golf.