The Cost of Competing in Golf
At Operation 36 Golf, we believe to improve at a skill you must "get your reps in." To improve at playing the game of golf, you must get your reps in playing the game of golf on the golf course. To improve at playing in formal golf events, you must get your reps in playing in formal events.
Golfers need to get reps in on the golf course to improve. In our experience, the players that get the most reps in playing the game of golf on the course, improve the most.
The same is true for a tournament golfer. The more tournaments they play in, the more they learn how to post a score no matter how good or bad they are hitting it. The players that end up going on to play in college more often than not, play in 20+ tournaments or formal events a season (8 of them being ranked events) from approximately 13 years old and up.
As a parent and coach, we want our players to get enough reps in so they have a realistic chance to improve and reach their long term goals.
The problem is that the cost involved in playing in junior tournaments can be quite high! Entry fees in events can get out of control with some events costing upwards of $200-$300+.
In addition, there is travel involved in the event, accommodations, food and the massive dedication in time for all involved. Using conservative numbers, let's look at the total cost of an average 18-hole event: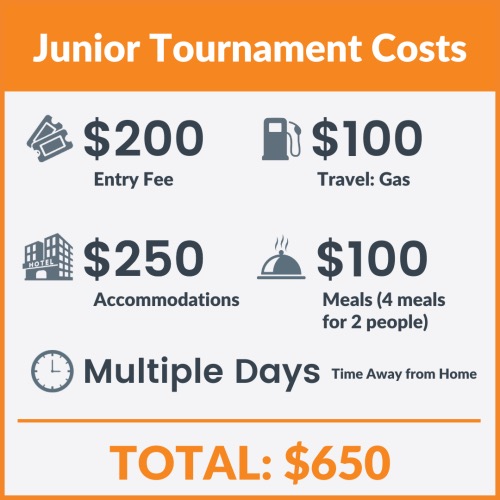 Entry Fee: $200
Travel: $100 gas
Accommodations: $250 (2 nights in a hotel)
Meals: $100 (4 meals total for 2 people)
Time away from home: Multiple days
Total: $650
Let's do some quick math. If a family knows that a player needs to play in 20 events a season and the total cost per event is $650...we are looking at $13,000 a season. Wow!
Since many families would not be able to afford a $13,000 golf season, we want to share a smarter alternative for golfers that want to "get their reps in" with tournaments.
How to get your reps in without breaking the bank
Personally, my son is at the age where playing in tournaments is important to him to get his reps in as he wants to play in college someday. I'm excited we have figured out a way to support him without having to take out a loan or refinance the house!
The Operation 36 solution allows juniors to play tournaments locally, with a coach on-site that will help train juniors. This means your family doesn't need to travel all over the state to events. You could sleep in your bed at night, eat meals at your house and conveniently head over to your local course for each 9-hole event.
What is this solution? Well, the standard Operation 36 program is a combination of weekly classes and 9-hole events, or tournaments, that are conducted at your local golf course. Once you find a facility that is close to you, this is a great place for you to provide consistent opportunities for your junior to get reps in on the course in tournament-like conditions.
Let's look at a typical month of programming with Operation 36
As you see in the graphic, in the month of April a player would attend 4 small group classes to train with their coach and work through the Operation 36 curriculum. They would also participate in (2) 9-hole events, or tournaments, in the month of April.
At each 9-hole event, they would be working their way through the on-course development model starting at Division 1 - 25 yards from the green with the goal of shooting 36 or better. Once they shoot 36 or better, they would move back to Division 2 - 50 yards away and continue through the 10 divisions.
If an Operation 36 program ran 10 months out of the year, you could get 20 reps in doing the 9-hole events (2 per month).
Let's look at the cost of doing this:
Entry Fee: $30 per 9-hole event (average cost we have seen)
Travel: Minimal
Accommodations: $0
Meals: $0, Eat normal meals at home
Time away from home: 3 hours
Total: $30
Let's do the math. If you played in (20) 9-hole events it would cost your family on average $600. Compared to the example of the off-site tournaments which would be $13,000, that's a savings of $12,400.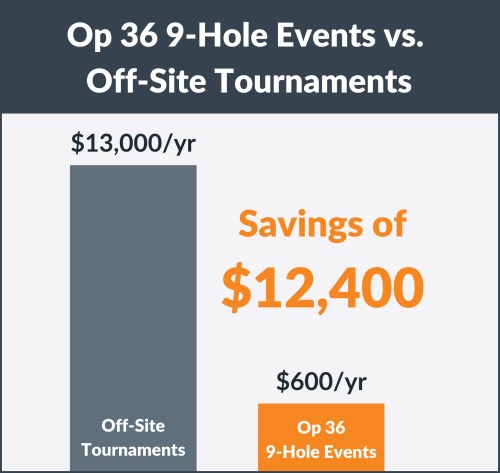 Let's agree that it is a better use of our resources and money to spend $600 for a couple seasons. Give your junior a chance to get their reps in at a local facility, under the watchful eye of their coach and with their friends. In the future, as they progress it might become worth it to invest $13,000+.
Where do I go from here?
Imagine if you enrolled your junior in an Operation 36 Academy and when the time came for them to get serious, let's say at age 12 for them. They played in (20) 9-hole events for 3 years and then decided one of two options:
"I want to play in college, can we play in bigger tournaments to get me ready?"
"I don't think I want to play competitive golf beyond the Operation 36 Academy. Can I keep progressing here at the Academy and see how good I can get? I really like to be with my friends."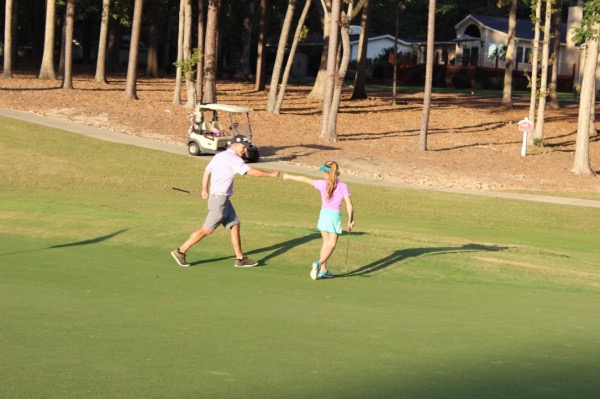 In either case, you have saved $12,400 per year ($37,200 total) versus doing the traditional tournament route. Your junior has a local coach that they have developed a strong relationship with and they enjoy attending classes each week and playing in the local 9-hole Op36 events.
You have also saved your family 20 weekends of traveling for 3 years and maybe you replaced those with other family events. You are in a much better position to support them for the final few years if they do indeed want to travel the state and play in tournaments. They are also much more prepared to play in tournaments as they have gotten their reps in while being in Operation 36 and your investment in tournaments will see a greater return.
We think the wiser option is to start in your local Operation 36 program and get your reps in. Then after a period of time and trial, decide if traveling the state and pursuing upper level tournaments is the best decision.
If you'd like to connect with a coach that believes in the Operation 36 development model near you, visit https://operation36golf.com/community-map/.
To download our FREE "Getting into Golf Guide," that will help those families that are just starting out in the game of golf, go to, https://operation36.golf/#getting-into-golf.
If you would like to know what it is like for juniors to advance through the Operation 36 program, be sure to check out our new YouTube series, "My Journey."